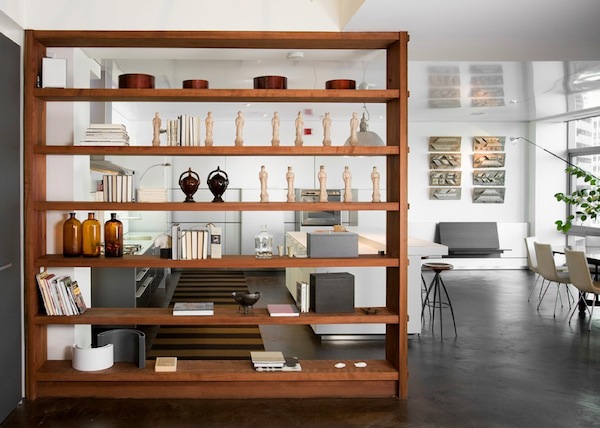 There are lots of great ways to get the most out of small spaces. One of my favorite decorating tips is using bookshelves to create room dividers and separate existing spaces into multiple areas. With the addition of a sturdy shelf, a living room can become a sitting room and a home office… or a foyer… or even a breakfast nook! I love this trick because you can renovate your home without the high cost of building or re-decorating. It's a great way to make apartments, condos and flats a little more homey, too.
The right shelf
Open shelves: Open bookcases are a great way to to separate a room while maintaining a constant flow throughout the space. Utilize one or two bookshelves with open backs to separate living spaces. Once you add books and decor, the space fills out without a solid separation. This is great is you have a flat or one-room apartment because you can create specific spaces without making the area feel too small.
Multiple shelves: Think your space is too big for one shelf to do the trick? Utilize multiple shelves to get the look — and it doesn't have to be the same shelf! Find a style that comes in multiple models or sizes and use them together. One tall shelf and one waist-high shelf creates a great divider in larger rooms.
Floor to ceiling: If you want to completely divide a space for privacy, use a floor-to-ceiling shelf. This option is best for small apartments. Create a closed off bedroom, or even create a faux "walk-in" closet behind the bed with one of these large shelves.